OE Elsafes' TUF-R® (25W) is our next-generation USB fast charging module incorporating the latest Power Delivery technology and a world-first reversible USB A port.
The new TUF-R® PD (25W) USB charger enables mobile devices to charge optimally. .
The A and C outlets have 3-4 supply voltages available depending on the charged device. TUF's Intelligent Device Recognition (IDR) ensures your device is charged optimally in the shortest time.
The OE TUF-R USB charger has been developed for the future, offering the unique and patented benefit of being replaceable. Replacing only the TUF-R module and not the whole product saves time, money, and significantly reduces waste.
Upgrade / Replace by anyone
TUF-R is quick and simple to replace without the need for an electrician or turning off the power. The unique and patented benefit of being replaceable makes TUF-R perfect for areas of high traffic, such as airports, schools, and hospitality, where if damaged through misuse, TUF-R can simply be quickly replaced.
Reversible Type A Port
Unique to OE Elsafe is the reversible Type A port which will ensure a single attempt connection every time.  USB charging cord connectors can now be inserted both ways, cutting down on wear or damage from incorrect attempts, maximising the working life of the power module.
Technology never stands still, so being replaceable also allows TUF-R to be upgraded in the future to keep pace with the latest USB charging technology.
Click to see how quick the TUF-R Canister is to replace
TUF is safe and designed for public spaces, no data transfer is possible.
We test every pin on every connection in every socket
All units are manufactured using ISO9001 quality controlled components and practices and are 100% tested before dispatch.

cable options: 
n/a
materials:
sockets – polycarbonate.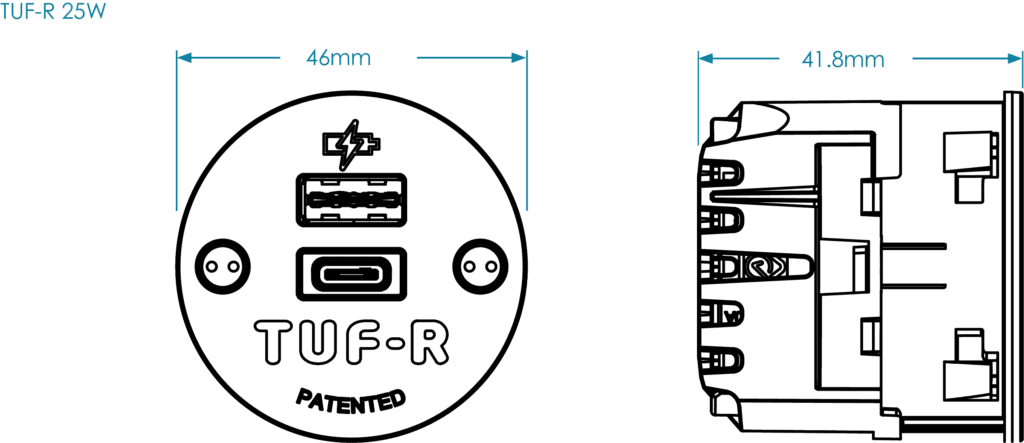 all your questions answered
How many inserts have the modules been tested with?
TUF-R® A+C has been independently tested with over 10,000 missions.
What is the difference between TUF-R®/HP and TUF-R® 25W?
TUF-R®/HP offers 75W of power and charges mobile devices and laptops. TUF-R® 25W delivers 25W of power for charging mobile devices.
What units can TUF-R 25W be specified in? 
How can I mount TUF into furniture? 
TUF may be specified in most OE products; check out our IN SURFACE range to see what can be mounted in furniture. Popular options include POP, PIP & PIXELTUF.
Is TUF safe to install in public areas?
Yes, you can safely charge using TUF in public areas!
TUF is designed for device charging only. Data transfer is not possible as TUF has no external data connections or the ability to store malicious code.