PANDORA is an innovative solution for bringing power and Y+TUF-R USB charging to breakout and meeting areas with exceptional functionality and style. Fitting seamlessly into a 128mm+ grommet hole, PANDORA offers a near flush profile when closed. The unique rotating feature of PANDORA allows for 360° socket access, making it both convenient and user-friendly.
Made with high-quality PC/ABS material, PANDORA is built to last and maintain its appearance. Available as standard in Black or White bevelled options, or Black with Stainless Steel top and bezel inlay. To create a seamlessly integrated power solution that's sure to impress – talk to us about creating your own unique inlay top to match your surface.
We test every pin on every connection in every socket
All units are manufactured using ISO9001 quality controlled components and practices and are 100% tested before dispatch.

cable options:
PANDORA may be hardwired to:
• mains AC plug 
• Male Wieland GST18 connector for "soft wiring" e.g. connection to an under-desk power modules or direct to a floor socket via a starter cable
• OE J Coupler for connecting two or more PANDORA units to a single mains supply socket
materials:
•Body and grommet: Fire retardant PC/ABS
• securing nut – nylon 6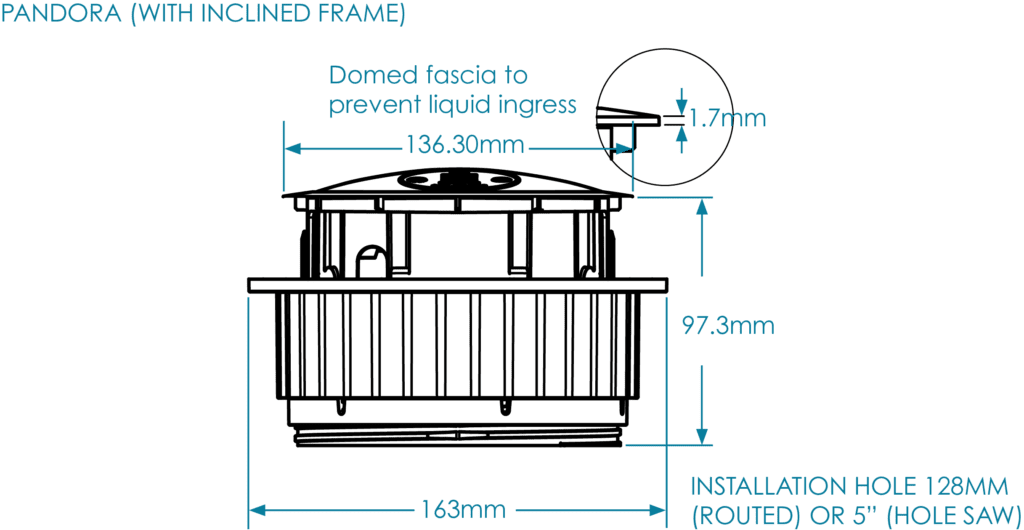 all your questions answered
What can be specified in PANDORA's apertures?
Choose a combination of AC power, canister USB modules from the TUF range, and data/AV.
What is the difference between inclined frame and inlayed frame?
The inclined / bevelled frame matches the finish of the body of the PANDORA and sits 1.7mm above the surface.
PANDORA inlay frame available with black housing only is specified with a stainless steel or bespoke finish bezel and sits 3mm above the surface.
See datasheet for full details.