QIKPOST is the latest addition to our line of QIKFIT power solutions. This striking, locatable power tower is fully customisable with our range of QIKFIT power modules. With our signature logo tag & high quality paint finishes, we believe this is the most stylish remote power solution on the market!
QIKPOST can be powered using a traditional wall socket & tether, or – for a completely mobile solution – can be set free with our ANIMATE battery system.
Available with a wheeled base, handle and many other optional extras – QIKPOST is the ideal power buddy for offices, lobbies, workshops & beyond.
We test every pin on every connection in every socket
All units are manufactured using ISO9001 quality controlled components and practices and are 100% tested before dispatch.

cable options:  
• A hardwired power cord to mains AC plug, or
• integrated IEC C14* or GST18 male connectors for attachment of a separate power supply cord.
*QIKPAC Battery version only
materials:
Powder coated extruded aluminium leg with coloured PVC trim strips
Powder coated steel base with rubber feet or optional castors
Machined acrylic top cap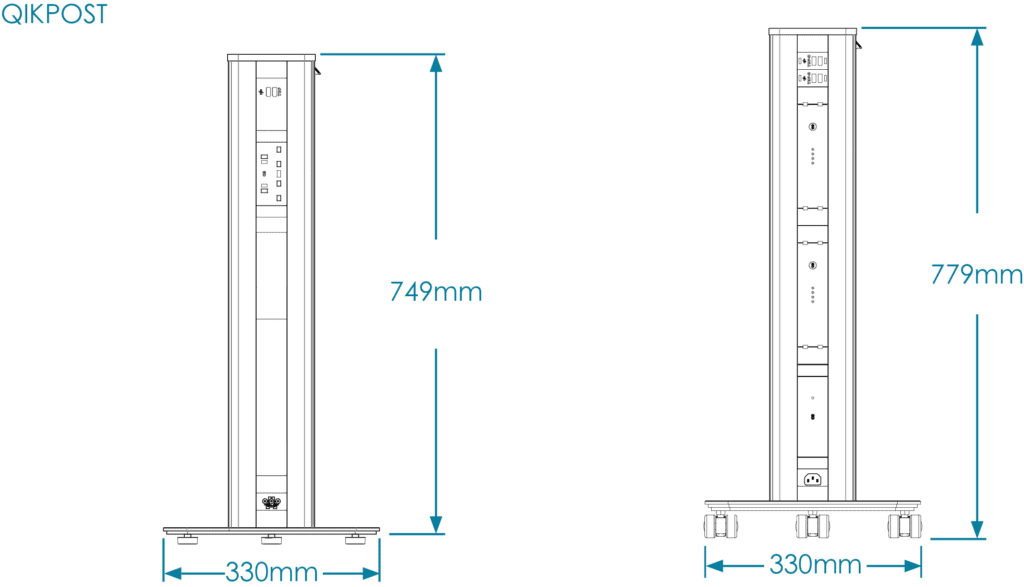 all your questions answered
What can QIKPOST be configured with?
QIKFIT AC socket modules QIKPAC battery, QF30 PSU and QF05 TUF-R HP
Specify QIKPOST to be powered via a hardwired AC plug, or integrate QIKPAC batteries into the aluminium leg for a completely mobile solution.