• part of the QIKFIT system
• unique locking arm system for secure installation
• comes in natural anodised aluminium colour
QIKFIT AXXESS combines a near flush aluminium hinged lid assembly that opens to reveal a sturdy powder-coated steel power and data compartment with cable storage area.
The compact AXXESS 25 unit comes pre-fitted with a 2 socket QIKFIT power module with the option to add a QikFIT TUF (25W) USB A+C charging module. 
We test every pin on every connection in every socket
All units are manufactured using ISO9001 quality controlled components and practices and are 100% tested before dispatch.

cable options:
• Compatible with Wieland GST18i3 Male and female connectors
materials:
•  frame & Lid: Anodised aluminium extrusion
• moulded polycarbonate end caps
• Power/Data box: Powder coated mild steel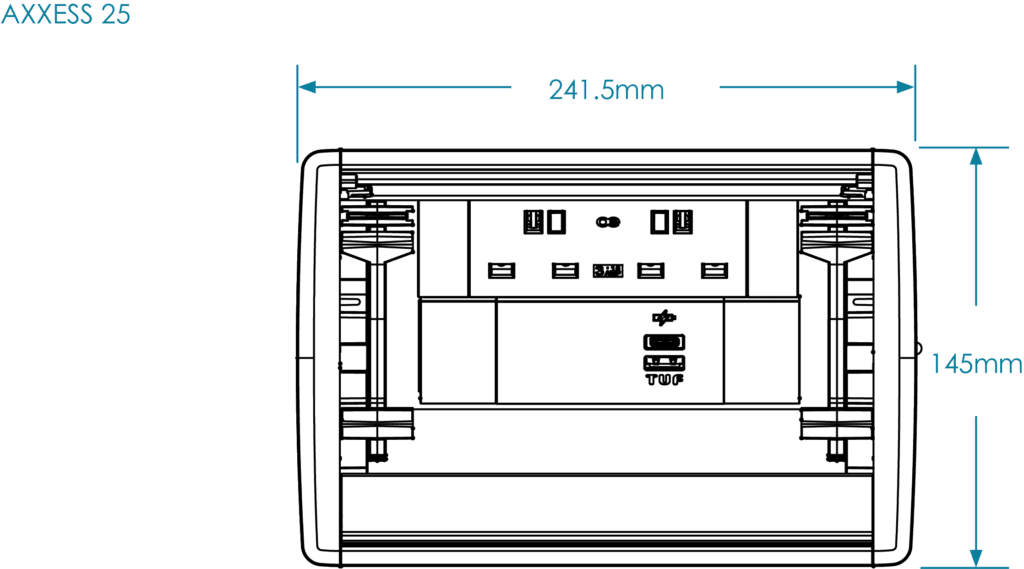 all your questions answered
What can be specified in QF AXXESS 25?
The QIKFIT AXXESS 25 can be configured with the following QIKFIT module combinations, in each of the two stacked apertures:
• 1 x QIKFIT 2G power module or
• 1 x QIKFIT TUF plus 1 x QIKFIT 2G power module.